Cut first, synchronize audio after editing:
Take a Sequence edited with camera audio to Sync-N-Link and the camera audio will be replaced with the full polyphonic audio tracks.
Organize the audio and video clips for your dailies/rushes into bins that represent each scene or day.
Edit the program using the already-captured camera audio.
Send the edited sequence, along with the dailies bins, to Sync-N-Link.
Create updated sequence with polyphonic audio tracks in Sync-N-Link and send it back to Final Cut Pro.
Polyphonic audio tracks will contain all volume and filter settings applied to the camera audio during editorial.
Continue audio post with polyphonic audio files.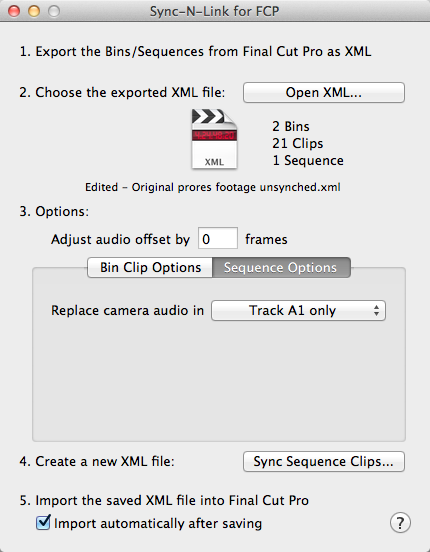 Note: In this workflow, the camera audio (and any temp audio) is retained but moved to lower (higher numbered) audio tracks, so that the integrity of the replace can be checked.
Shop Online | Assisted Editing | Support | Press
About Us | Contact Us | Other Smart Tools