Batch synchronize and multiclip before editing:
Take your bins of audio and video clips - from one or more days shoot - and batch synchronize and create multiclips in less than 15 minutes
Organize the audio and video clips for your dailies/rushes into bins that represent each scene or day.
Send the bin(s) to Sync-N-Link.
Choose to make multiclips from the merged clips and tell Sync-N-Link how many camera angles will be in the multiclips.
Export new bins from Sync-N-Link and continue to editorial.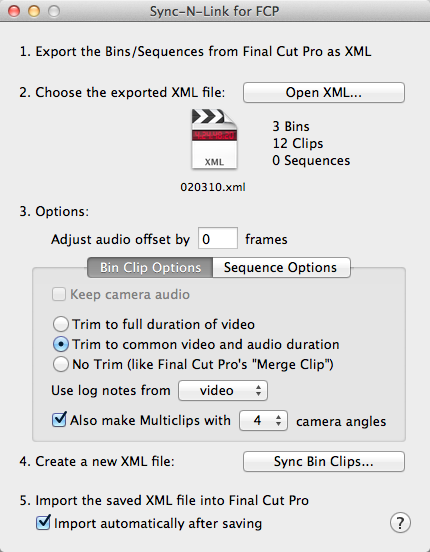 Note: It is recommended that merged clips be exported to self contained media if the edit is going to happen on a different system to the pre-edit sync. Final Cut Pro, unfortunately loses reference to the original sound reel name.
Shop Online | Assisted Editing | Support | Press
About Us | Contact Us | Other Smart Tools