Eliminate Clip Titling Tedium!
Clip Info Titler
No more tedious manual typing of Clip information for burned in display. Get the job done in seconds instead of hours or even days!
Clip Info Titler takes a Bin of Clips from Final Cut Pro via XML export and returns a Sequence with the Clips in the order they were sorted in the Bin, complete with Title overlays that can include any combination of:
Custom Text,
Clip Name,
Media File Name,
Date and Time (if available),
Reel Name (if available),
Scene, Shot/Take, Log Note (if entered during Log and Transfer or in the Browser), and
First Frame Timecode (if available).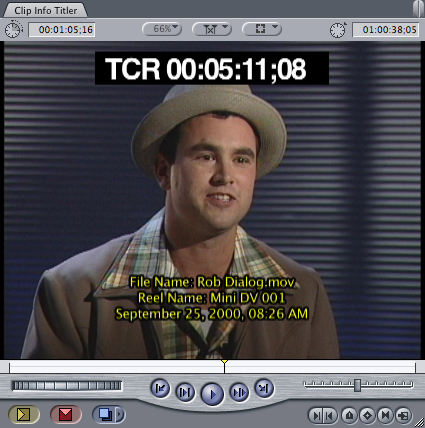 Each of the five lines can be set to any of the above categories. Each row has custom text that can be used as a label, or as the text line. Combinations are remembered between sessions.
Read date and time information that isn't available inside Final Cut Pro!
(Note: Date and Time are functions of tapeless media ingested via Log and Transfer. Media captured with Log and Capture does not add date and time to the media.)
Shop Online | Assisted Editing | Support | Press
About Us | Contact Us | Other Smart Tools