How it Works
Clip Info Titler will reduce the tedium of burning-in information about the clip into a Title Overlay over the clip and save time and money because:
Clip Title Overlays are added in seconds, not hours or days;
Automatic Titles are more accurate than manually made ones;
You can customize the content of the overlay in Clip Info Titler;
You can customize the appearance by sending a sample Title in your exported XML;
Add a Timecode Reader Filter for each clip by clicking a checkbox in the application. (First Frame Timecode verifies accuracy for forensic or legal purposes.)
Forget copy and paste - generate a whole sequence of title overlays in seconds.
Requirements:
Final Cut Pro 6 or 7 (part of Final Cut Studio)
An Intel Mac running OS X v10.8 Mountain Lion or OS X v10.7 Lion or OS X v10.6 Snow Leopard
Media that has been imported via Final Cut Pro's Log and Transfer or Imagine Products' ShotPut Pro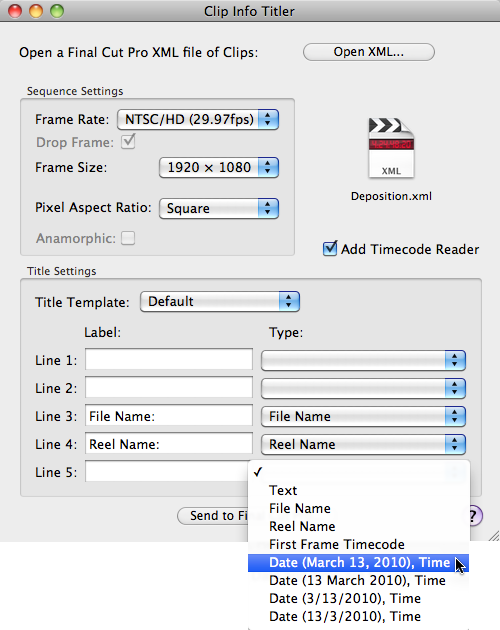 Shop Online | Assisted Editing | Support | Press
About Us | Contact Us | Other Smart Tools