exceLogger for FCP:
Unleash the power of Excel for Final Cut Pro logging
Cheap hard drives have led to workflows where logging happens after capture, making it almost impossible to use the power of Excel (or Numbers) for logging. exceLogger for FCP solves the problem by merging logging data (including creating new subclips) from Excel with already captured media in Final Cut Pro. Use Excel for smarter logging, or log with Excel and QT Player without Final Cut Pro for just $69.
Maybe the reason you're not logging is because it's too hard in Final Cut Pro? exceLogger for FCP lets you use the power of Microsoft Excel to log already captured clips.
With exceLogger for FCP's workflow you export clips (batch list) from Final Cut Pro to Excel and an XML file.
Add logging information and create new Subclips in Excel. Process in exceLogger for FCP with the XML file. Clips are created, updated and linked to media in Final Cut Pro.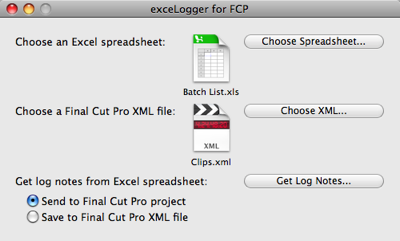 exceLogger for FCP is available now for US$69. Requirements:
Final Cut Pro 6 or 7 (part of Final Cut Studio)
An Intel Mac running OS X v10.8 Mountain Lion or OS X v10.7 Lion or OS X v10.6 Snow Leopard